Less Feed / More Meat
"Less Feed, More Meat"
Hubbard's focus on "less Feed, More Meat" is totally in line with the "Natural Concept" of Groupe Grimaud which was officially launched end of 2012, embracing the Groupe's philosophy on how to feed the world in the decades to follow in a sustainable way. It outlines the ways in which Groupe Grimaud and its companies develop and implement best practices in the genetic selection and production of animal protein to feed a growing world population.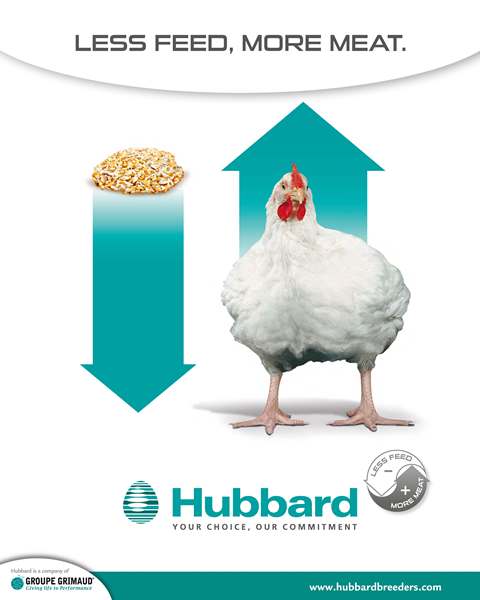 Feed cost represents over 70% of live production cost of a broiler, the highest levels in history and will remain to be at a high level in the years to come.
Hubbard's special focus in its genetic selection program on feed efficiency and total meat output has led to a product range offering the best answers to the poultry industry to save feed costs on breeder and broiler level.
The "Feedsaver" concept of the F15 breeders saves about 15% of feed to produce a broiler day-old-chick compared to conventional breeders.
All Hubbard broilers have an excellent FCR compared to other breeds.
This allows customers to use less kg of feed to produce 1 kg of live broiler, 1 kg of carcass or 1 kg of total meat!