Hubbard Press Release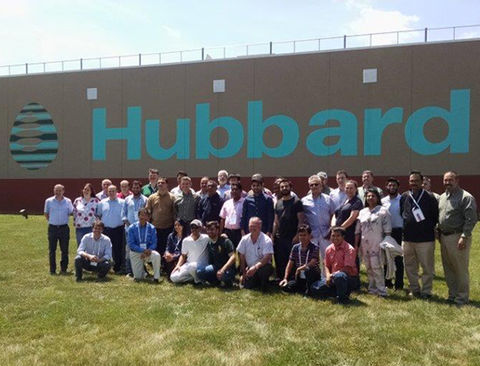 07/15/2016
2016-06
---
International Hubbard Hatchery & Poultry Management School in Tennessee, USA
The 2016 Hubbard International Hatchery & Poultry Management School was recently held in Tennessee, USA, with over 50 participants from 17 different countries in attendance. After a welcome by Olivier Rochard, Hubbard CEO, hatchery presentations were made on a wide range of topics from sustainability, early embryonic mortality, sanitation applications and embryo-diagnosis. The group also spent significant time visiting hatchery facilities in the region.
The Poultry Management segment of the International School began later the same week.
The initial focus was on Hubbard's 95 years of Genetic Selection. Other topics included all aspects relating to breeder female management, health, productivity and lighting programs. The participants also travelled to a Parent Stock rearing Farm. The second part of Poultry Management focused on the USA broiler markets, breeder male management, Quality Control laboratory audits and the effect of breeder diets on the performance of their broiler progeny.
The group visited one of Hubbard's customers with the Hubbard Classic breeder flocks in production to receive hands-on management training by the farm staff. The final days dealt with presentations on the worldwide Premium markets where Hubbard is clearly the global leader, the importance of early broiler management and a review of the Hubbard broiler testing facilities around the world. As part of this the group toured a state of the art broiler farm in Alabama. Finally the attendees received an overview of the worldwide chicken markets and a much anticipated presentation on Global R&D. The group was also able to tour a US broiler processing plant to see the latest in modern technology. The program finished with a focus on the Chicken Supply Chain in the USA, food industry in the USA, breeder management e-tools, flock technical services being the 'concept of success' and a leading US hatching egg producer presented a talk on the Hubbard Classic and how it fits their business model.
The final evening ended with a ceremony and diploma presentation in Chattanooga (TN). According to Oliver Rochard, "The school demonstrates the increasing success of the Hubbard breeds across multiple continents. The attendees were able to learn of updates in various world markets where we operate, besides witnessing in person the latest in both hatchery and production techniques. What differentiated this school from others in the industry were the practical aspect and the possibility to enter various facilities in the industry ranging from parent stock through to processing."
For more information, please contact:
contact.americas@hubbardbreeders.com