Newsroom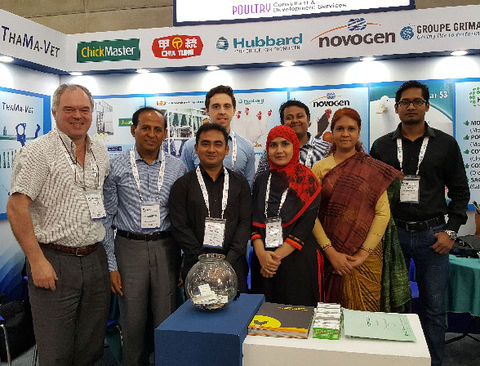 04/07/2017
2017-03
---
Bangladesh: remarkable International Poultry Show and Seminar 2017 in Dhaka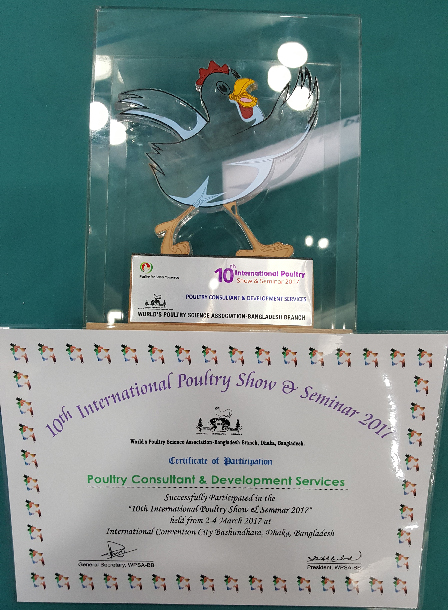 Hubbard attended the highly successful "10th International Poultry Show and Seminar 2017" held in Dhaka, Bangladesh, between the 2nd and 4th March 2017. The exhibition with more than 490 stands both local as well as well recognised International suppliers, was held at a new venue of the International Convention City Bashundhara, a complex offering significantly more space and air conditioned exhibition space. The Exhibition is combined with the WPSA to promote poultry production in Bangladesh which has both one of the largest memberships of the WPSA as well as being one of the fastest growing poultry markets in Asia.
Hubbard has been present here for over 35 years working closely with their long term partners Poultry Consultant and Development Services (PC&DS), under the guidance of Mr Rafiqul Haque and their Grand Parent customers Paragon Agro Ltd and Aftab Hatchery Ltd, both vertically integrated leading companies in Bangladesh.
Here on the right : exhibition award for stand of Poultry Consultancy and Development Services.
Aftab were one of the first companies to invest in processing in Bangladesh, and in 2016 Paragon completed the construction of their first primary and secondary (cooked) processing plants. Even Bangladesh is still predominantly a live bird market, but as more fast food and five star hotels come along the demand for quality and high standard processed poultry is increasing.
Hubbard is particularly well adapted to this market and enjoys a growing market share in this very competitive market. Producers appreciate the Hubbard's consistency and reliability of management at the breeder level as well as a robust broiler which handles the rigors of both open and closed house conditions in its stride.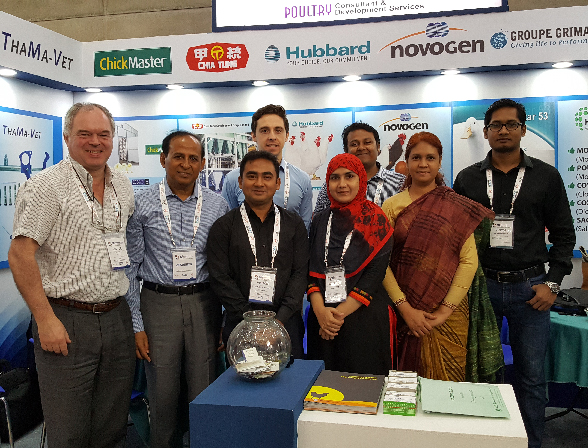 Hubbard and PC&DS teams in Bangladesh
Front row, from left to right: Mr. David Fyfe, Business Director Hubbard Asia, Mr. Md. Rafiqul Haque, C.E.O. Poultry Consultant & Development Services, Mr. Abdullah Al Mamun, Technical Support & Marketing Manager NOVOGEN - Bangladesh, Mrs. Marzina Akhtar Dolly, Commercial Executive PC&DS, Ms. Taslima Akter Labannaya, Administrative and Commercial Manager PC&DS.
Back row, from left to right: Mr. Maxime Lecoq, Export Sales Engineer, Groupe Grimaud, Mr. Zakaria Islam, Sales & Marketing Manager PC&DS, Mr. Md. Saadiqul Islam Saadi, Assistant Technical Manager Hubbard - Bangladesh.
For more information, please contact: