Newsroom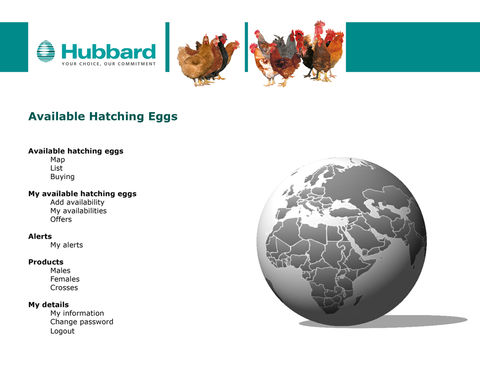 06/30/2017
2017-06
---
Hubbard launches the Hubbard Premium Hatching Egg Trade platform
As global market leader Hubbard is fully dedicated to continue to be at the forefront in the Premium market segment. Hubbard is committed to providing its customers and partners high-quality products and a top-level support.
During the 2nd Hubbard Premium Forum held in Porto last June, Hubbard presented its latest tool dedicated to Hubbard Premium customers, to help them to optimize the utilisation of their hatching production. It represents a very easy-to-run platform which can link all Hubbard Premium customers around the world.
Seller: customers wishing to sell Hubbard Premium HE's can register themselves on the platform and add information about the product available and specify: product, quantity, place and date.
Buyer: customers wishing to buy Hubbard Premium HE's and who are in search of a specific product can check the current availabilities or alternatively place an alert on the product they are looking for.
When the demand matches the offer, the two parties involved can correspond directly with each other through e-mail.
Is this tool of interest to you?
Please get more information from your Hubbard representative or at
contact.emea@hubbardbreeders.com