مستجدات هبرد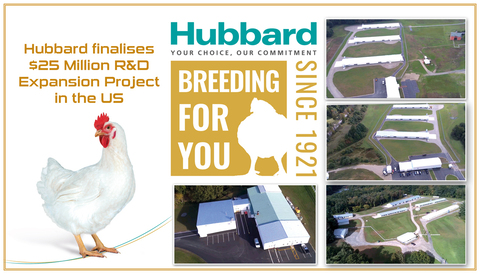 19/01/2023
2023-01
---
Hubbard finalises $25 Million R&D Expansion Project in the US
Further strengthening of its North American operation reinforces
Hubbard's breeding program and customer success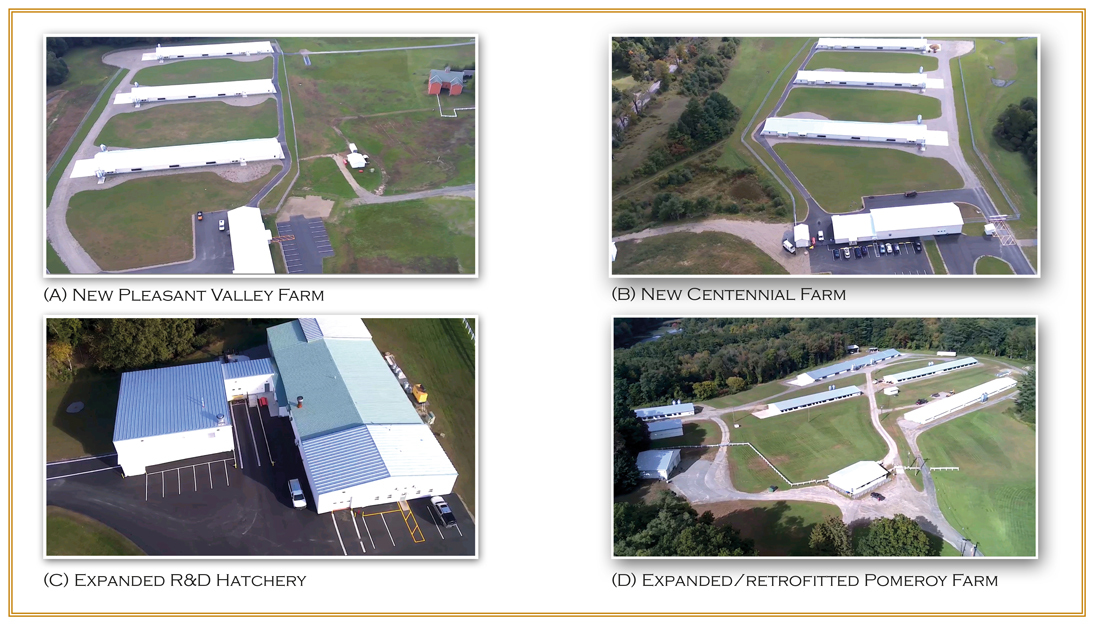 Walpole, USA (New Hampshire) - Hubbard® LLC has completed a $25 million expansion of its Walpole, NH, research and development (R&D) base. The current Hubbard operation in Walpole, consisting of conventional pedigree poultry breeding lines, has been further developed to include (marked to correspond to the facilities in the photos):
(A) Conversion of former land on the existing Pleasant Valley Farm to construct an additional R&D grow-out farm, complementing the new Centennial farm.
(B) A new state-of-the-art R&D grow-out farm called "Centennial Farm" to commemorate Hubbard's 100 years of service, to poultry producers in North America and abroad, which the company celebrated in 2021.
(C) Expansion of the R&D hatchery with separate egg storage capacity for pedigree and Great Grandparent lines. This upgrade includes the latest incubation and hatchery technology, allowing for additional chick sexing and a 50% increase in egg-setting capacity.
(D) A new, advanced feed conversion research building at Pomeroy Farm, where Hubbard works to continually improve feed efficiency, resulting in lowering the CO2 footprint for the poultry industry.
A retrofit of 24 pedigree grow-out, feed conversion, rearing and production houses on various farms, with advanced ventilation and other technologies to achieve ideal environments for bird health, comfort, and performance.
Investment driven by commitment
The recent investment is part of Hubbard's commitment to continuous improvement in bird performance, health, and welfare, along with efficiency and biosecurity. This commitment is fulfilled through R&D and innovation, along with a drive to help customers feed the world with a healthy protein source, in a sustainable way.
The investment will strengthen the service and supply of Hubbard's Efficiency Plus® Grandparent and Parent Stock to customers in North and South America and around the world. The popularity of the Efficiency Plus has continued on an upward trend, as poultry producers have come to benefit from the robust bird's high productivity at the breeder and broiler level, and excellent welfare status.
This marks the second investment since Hubbard was acquired by the Aviagen® Group in February 2018. In 2020 a multi-million-dollar project was executed to add, expand, and modernize multiple pedigree farms, houses, and hatcheries with state-of-the-art technology and equipment.
"We owe the successful completion of this project to the hard work and dedication of the Walpole team and the outstanding support from the local businesses, civil service leaders, and residents of Cheshire and Sullivan counties. I am happy to welcome the 40 additional people that have joined the Hubbard family this past year and look forward to meeting new colleagues as we continue to grow our team. This investment positions Hubbard to strengthen the quality of our birds and service to our customers, so we can achieve our common goal of providing a healthy protein source for the growing global population. Hubbard has served the world in this manner for more than 100 years, and this investment is a testament to our conviction to feed the world for the next 100 years to come," commented Lucas Harrington, Director of Pedigree Operations, Hubbard LLC, Walpole.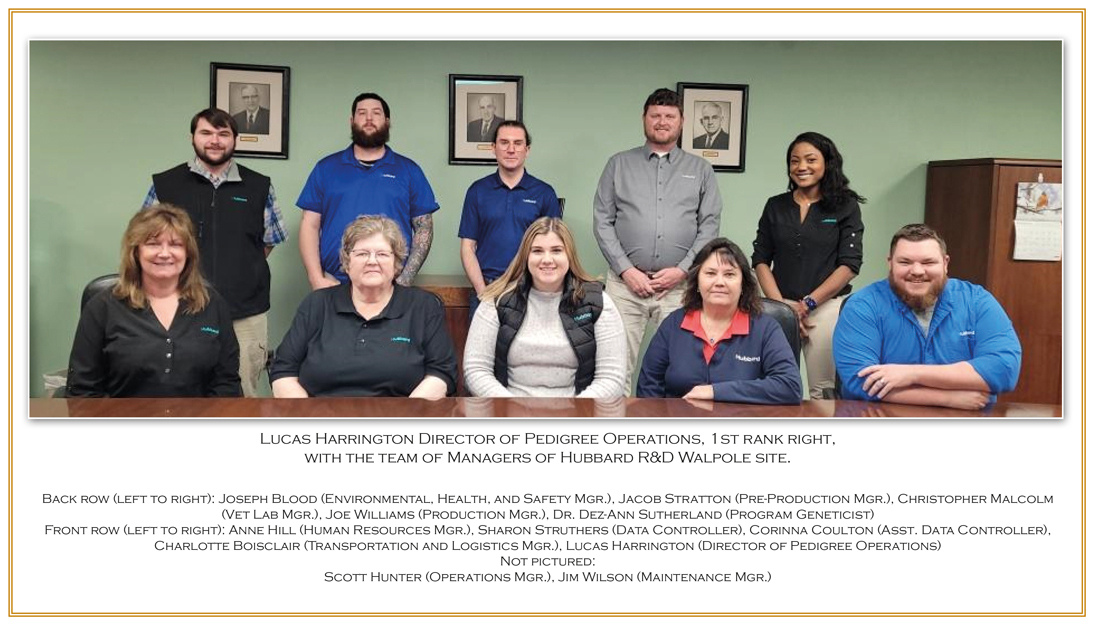 "We are dedicated to the success of our customers. We fulfil this commitment by driving breeding innovations that contribute to the advancement of bird performance, welfare, and sustainability, while at the same time promoting the ability of producers to feed their local communities with a nutritious and affordable source of protein," Mark Barnes, General Manager of Hubbard LLC's Operations in the Americas.
For further information, please contact your regional sales representative or: