Hubbard Press Release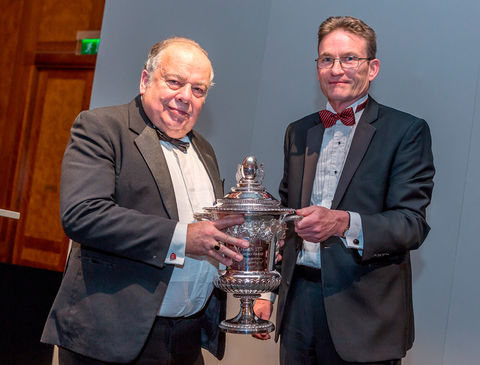 12/07/2017
2017-12
---
Jim Hunnable gets prestigious BPC/FORFARMERS Poultry Person of the Year award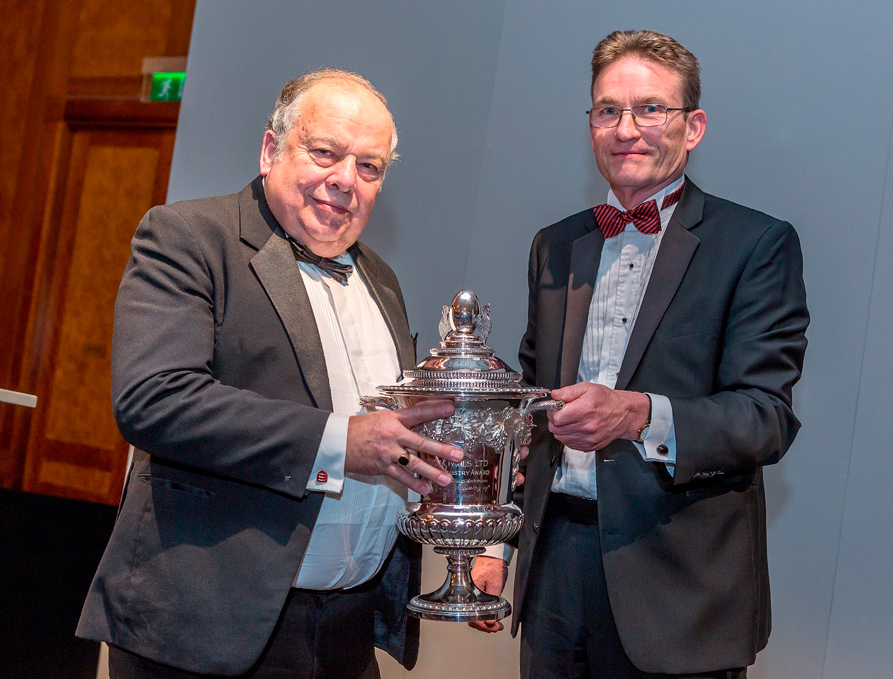 United Kingdom - During the gala dinner of the 51st Egg & Poultry Industry Conference (EPIC) held in Newport, Jim Hunnable received the prestigious "BPC/ForFarmers Poultry Person of the Year" award from BPC's chairman John Reed. Jim was rewarded for his active involvement and strong support to the U.K. broiler industry during the last 55 years. Following the announcement by John Reed, Jim Hunnable received a unique standing ovation from everyone present.
Jim Hunnable receives the BPC/ForFarmers Poultry Person of the Year award from John Reed.
Jim started his career in the poultry business at an age of 15 in 1962 as a trainee at Cobb in the U.K. and worked his way up through being a "Broiler Breeder Fieldsman", "Area Service Manager", "Technical Service Manager", "General Manager" and the last 20 years being the MD of Cobb Breeding Company Limited. Under Jim's leadership the company was recognised with several Queen's Awards for International Trade.
During his career, Jim was able to introduce the U.K. industry to Mr. Don Tyson, the president of Tyson, who Jim got to know very well. This gave U.K. producers a unique chance to get a closer look on how a large integrator as Tyson was running its business and looking at the worldwide poultry industry.
In 2003, after the closure of Cobb's breeding programme in the U.K., Jim was appointed by Hubbard to support the further develop of their business in the U.K., Ireland and in overseas markets like South Africa, Zimbabwe, Australia and New Zealand. Since that period Hubbard has seen a remarkable growth in sales in the U.K. and Ireland and in the overseas markets.
Jim has been involved and is still member of several committees in the U.K. and plays an active role in the Nuffield Scholarship. He has an unbelievable large network in the industry in the U.K. and the rest of the world through which Jim has been and still is able to get many people together and help them in their business. Many who are today in the industry have come across Jim and/or have been motivated by him to come into the business. He is a well-seen person who never gives up and even after 55 years of service to the industry, Jim is still fully committed to the poultry industry in the U.K. & Ireland and many countries abroad.
In 2006 Jim was already presented the "European Poultry Breeder of the Year" award by Positive Action Publications and the VIV Europe organisation for more than 40 years of experience and in-depth knowledge of the international poultry industry through his several roles in the international breeding business.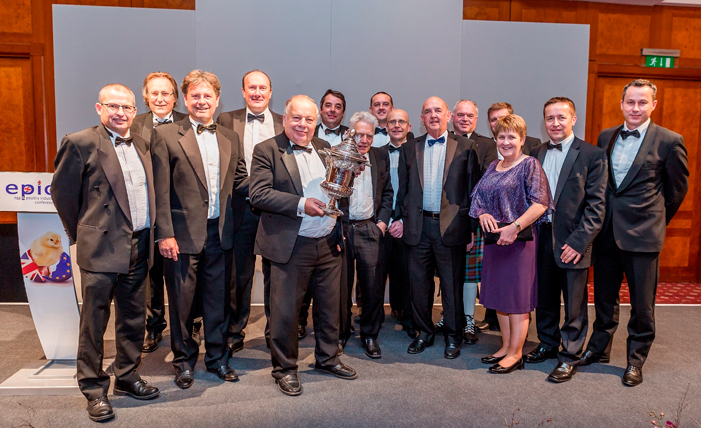 Jim Hunnable proudly showing the award with some Hubbard colleagues and U.K. customers.
For further information, please contact: