Hubbard Press Release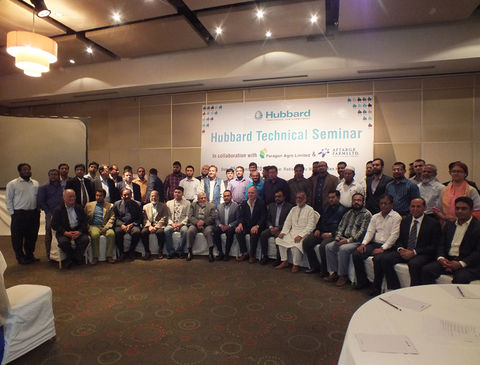 12/29/2017
2017-12
---
Bangladesh: Third Hubbard - PCDS Technical Seminar in Dhaka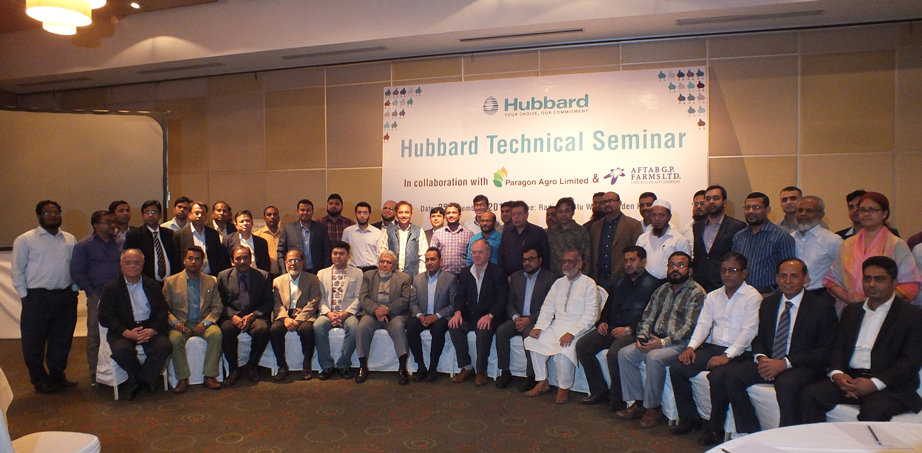 Hubbard and Poultry Consultant & Development Services (PCDS) jointly organised the third edition of their Technical Seminar on November 25th, 2017 at the Radisson Blu Water Garden Hotel in Dhaka, Bangladesh. Since many years Hubbard has two GP Distributors in Bangladesh; Aftab GP Farms Ltd. and Paragon Agro Ltd. as well as more than 20 of their parent stock customers were attending.

From left to right : Rafiqul Haque, Director PCDS, David Fyfe, Global Business Hubbard, Dr Roberto Santos, Responsable Service Technique et Vétérinaire Régional Hubbard, Ehsanul Kabir, Responsable Service Technique Hubbard et Talisma Akter Labannaya, Responsable Administrative et Commerciale PCDS.
Rafiqul Haque, Chief Executive Officer of PCDS delivered his warm welcome speech to the audience at Antara Hall. David Fyfe, Global Business Director of Hubbard, then updated the audience about Hubbard, its products and R&D facilities. "An Overview of IB variant disease" was the topic presented by Dr. Roberto Santos, Hubbard Technical & Veterinary Services Manager. Mr. Ehsanul Kabir Mosru, Hubbard Regional Senior Technical Manager, addressed "Hubbard's customer support & broiler test farm facilities in Bangladesh".
Engr. Md. Mahbubur Rahman, Executive Director of Aftab GP Farms Ltd., said, "I am very much pleased with Hubbard's support and close cooperation and I am very optimistic about an even brighter future of Hubbard in Bangladesh."
Mr. Moshiur Rahman, Managing Director, Paragon Agro Ltd., expressed his concern on how the poultry industry could best face the new disease challenges in Bangladesh and therefore is looking forward to additional support of Hubbard's experts and a local research team.
For further information, please contact: